Episodes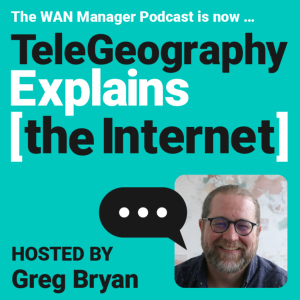 Tuesday Jan 31, 2023
Tuesday Jan 31, 2023
It's one thing to make predictions. It's another to go back and assess how those predictions shook out.
One month into 2023, Mattias Fridström, Chief Evangelist at Arelion, very kindly agreed to scrutinize his 2022 forecast with us.
As you will hear, Mattias has been at Arelion (formerly Telia) for a long time. From his perspective within a tier 1 provider, he has an outstanding view of the industry. He uses that vantage point to write a forward-looking article every year, reviewing trends he expects to see in the days ahead.
We were thrilled that Mattias visited us at TeleGeography Explains the Internet to wade through those predictions from days past.
We start with the top three global carrier trends. Listen in for a closer examination of network security, utilization of the public internet, and disaggregated networks. 
We also consider issues that arose in 2022—both anticipated and unanticipated—like skills gaps, cost increases/shortages like "chipmaggedon," and global issues outside the telecom industry. 
From This Episode: