Episodes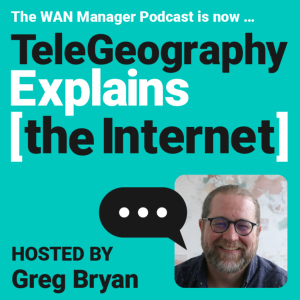 Tuesday Mar 21, 2023
Tuesday Mar 21, 2023
Wanna look at some cool voice data?
The recent expansion of the i3forum's Insights tool has quite a bit of that. I've been itching to talk about it on TeleGeography Explains the Internet. So today we're chatting with the i3forum, a nonprofit industry body focused on "accelerating transformation across the carrier ecosystem."
Put another way: this consortium of carriers routinely collaborates on solving some of the biggest challenges facing their industry. And they have a really innovative way of sharing data among participants, to the benefit of all involved. (Non-members can participate in this data-sharing, too. More of than in our discussion.)
To get into carrier collaboration, I'm joined by Philippe Millet, Founder and Chairman of the i3forum, as well as Michael Lawrence, Director of Business Intelligence, Operations and Transformation at Tata Communications.
Philippe walks us through why he founded the forum and how it operates. And how exactly do members develop, curate, and share recommendations with one another? 
This is the perfect segue to chat with Michael, an active member of the i3forum. He offers an inside perspective on the Insights tool and the benefits of connecting with other carriers. 
From This Episode: