Episodes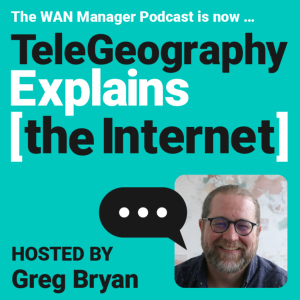 Tuesday Jun 07, 2022
Tuesday Jun 07, 2022
The TeleGeography team began benchmarking networks almost a decade ago. (Time flies when you're having fun!)
Back then, the big use case was making sure that carrier and customer were on the same page about how much MPLS and access prices had fallen over the life of a contract—and how far prices would probably fall in the next several years.
We still do some benchmarks that look like this. But, more often than not, benchmarking is much more complicated these days.
Enterprises often have some idea of the network they need to accommodate changes in IT—but the path to get from here to there, and the costs of the journey—are far from clear.
To help us bring some order to the chaos, we're glad to welcome back Ian Calderbank of Calderbank Consulting. Ian chats with Greg about legacy networks, related pain points, evolving business needs, and contours of the "target state" network that WAN teams should work toward.
From This Episode